The Shaking Ray Levi Society supports not only its own performing wing--The Shaking Ray Levis--it is involved in producing an documenting the work of other improvisers and creators, as well. One of the ways this is accomplished is through the Society's own production company, Shaking Ray Records. Contact Us for more information.

Transmutating (SRR CD-001)
LaDonna Smith and Davey Williams
Ah!-prime hooten-nanny of improvised, new fangled and hand-crafted music to boot!
Available in our store.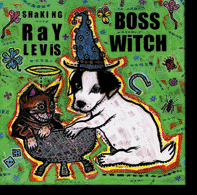 Boss Witch (SRR CD-002) -1997
Dennis Palmer, Bob Stagner, JD Parran, Steve Beresford, Davey Williams, Frank Pahl, Mary Richards. One rollicking record of improvised music that is fun enough to bedevil the best out of apocalyptic culture. "...In improv flights ranging from stretched-out countrified shit kickers to rococo drone-alongs, the Levis confirm their skills as integral elements in group ensemble playing." - Andy Pierce, Creative Loafing Atlanta
Available in our store.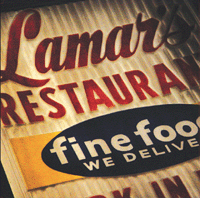 Live at Lamar's (SRR CD-003) Live at Lamar's, the latest recording by British guitar legend Derek Bailey and his East Tennessee co-conspirators, Dennis Palmer (synthesizer) and Bob Stagner (percussion), is a testament to their long-standing collaboration that now spans three decades. The ensemble playing found on Live at Lamar's, shifting from the heavenly, gospel-tinged opening to the sounds of one-hundred-twenty-three devils riding giant catfish atop waves of hellfire, speaks well to the notion that "all that rises must converge." Live at Lamar's is a Shaking Ray Records release, limited edition of 1,000.
"The Shaking Ray Levis have an aptitude for sounding fresh and free from cliché while not appearing self-consciously outlandish. They accommodate Bailey's singular playing in ways that set his idiosyncrasies to advantage, cast them in a relatively unfamiliar light and whet the appetite for more."
-The Wire
READ TONY MOSTROM'S REVIEW.
Available in our store.

The Gospel Record (SRR CD-004)
Derek Bailey, Amy Denio, & Dennis Palmer
Recorded 1999, released 2005
7 traditional Southern Gospel songs.
This project combines Southern Gospel compositions with firey yet lovely improvisations, a crossover that transcends qualities characteristic of both genres. The Gospel Record (Reference Edition) expresses the spirit of improvisation: it freely juxtaposes the atonal style of Derek's playing with Amy and Dennis' diverging interpretations of Southern Gospel, and takes on a striking depth as a result of this convergence.
The pairing of Southern Gospel and "Old-Timey Avant Garde" partners traditional Gospel lyrics and vocal melodies with nontraditional and expressive guitar sounds and cross-rhythmic homemade heavy metal and funk samples. The effect is at once jubilant and haunting, a reminder of our own mortality and materiality and the inexhaustible presence of the spirit.
Available in our store.


A.S.A.P. Wings (SRR CD-005)
Killick Erik Hinds, Bob Stagner, & Dennis Palmer
Cover art by Dennis Palmer
A.S.A.P. Wings is the first album from the trio of Killick Erik Hinds, Dennis Palmer and Bob Stagner, a.k.a. the Shaking Ray Levis. The music is a juggernaut, a whale of a hoot. Post-post-modern revivalism at its ornery and most unabashed best, and there's even a cover of The Residents' Red Rider. Open up yr wind-ers, open up yr doors...
The Shaking Ray Levis is an ongoing collaboration of musicians with a common interest in improvisation. The project was conceived and led by the Chattanooga-based team of Dennis J. Palmer and Bob Stagner. The latest incarnation of the group is a trio with Killick of Athens, Georgia. They use storytelling, synthesizers, samplers, percussion, and Killick's one-of-a-kind H'arpeggione to achieve their distinctive sound. They are the first American group to have recorded for Incus Records, the record label of late British free improvisational guitarist Derek Bailey. Additionally, they have performed and recorded with John Zorn, David Greenberger, Fred Frith, Min Tanaka, Amy Denio, Ken Vandermark, Peter Kowald, Susan Alcorn, Larry Ochs, Habib Koite, Chris Cutler, Susie Allen, and Derek Bailey, as well as many other critically acclaimed artists. Click here to learn more about "Thealm Ol' Levi Boys."
Killick, of Athens, Georgia is a tireless advocate for improvised and the other kind of music. He plays here his devil cello: the H'arpeggione, an upright acoustic instrument with sympathetic strings. Killick focuses on the raw sound of his strings in all their microtonal glory; his style blends primitive folk, heavy metal, and sacred musics from around the world into a doomy/pretty/physically exhausting voice. He runs Solponticello Records and is the fellow who put out a solo acoustic H'arpeggione version of Slayer's Reign In Blood.
Available in our store.

Shaking Ray Records
PO Box 21534, Chattanooga, TN 37424-0534
If you wanna give a listen before you order, check out our MP3 page or have a look-see at us on CD Baby!