CoPAC and the Shaking Ray Levi Society present
ROVA Saxophone Quartet

Monday, March 19, 2018, 7:30 pm
Barking Legs Theater
1307 Dodds Ave
Chattanooga, TN 37404
$20 advance/$25 door/$10 students (door)

Celebrating its 40th year, Rova Saxophone Quartet explores the synthesis of composition and collective improvisation, creating exciting, genre-bending music that challenges and inspires.

Rova is one of the longest-standing groups in the music movement that has its roots in post-bop, free jazz, avant-rock, and 20th century new music, and draws inspiration from the visual arts and from the traditional and popular music styles of Africa, Asia, Europe and the United States.

In noting Rova's innovative role in developing the all-saxophone ensemble as "a regular and conceptually wide-ranging unit," The Penguin Guide to Jazz calls its music "a teeming cosmos of saxophone sounds" created by "deliberately eschewing conventional notions about swing [and] prodding at the boundaries of sound and space..." Likewise Jazz: The Rough Guide notes, "Highly inventive, eclectic and willing to experiment, Rova [is] arguably the most exciting of the saxophone quartets to emerge in the format's late '70s boom."

Inspired by a broad spectrum of musical influences - from Charles Ives, Edgard Varese, Olivier Messiaen, Iannis Xenakis and Morton Feldman to The Art Ensemble of Chicago, John Coltrane, Anthony Braxton, Steve Lacy, Cecil Taylor, Sun Ra and Ornette Coleman - Rova began, in 1978, writing new material, touring, and recording, including early collaborations with such like-minded colleagues as guitarists Henry Kaiser and Fred Frith, and saxophonist John Zorn. Also in its early years, Rova shared the stage in collaborations with fellow San Francisco based trailblazers Kronos Quartet and Margaret Jenkins Dance Company. A 1983 tour of the USSR and accompanying PBS documentary highlighted the first five years of Rova's existence.

In 1985, the Rova Saxophone Quartet incorporated as the not-for-profit organization Rova:Arts. Founding member Andrew Voigt left Rova in August 1988 and was replaced by Steve Adams. Otherwise, the personnel - Larry Ochs, Jon Raskin and Bruce Ackley - has remained the same throughout the years, giving the group a consistency and sensitivity that has enabled its ever-evolving and highly nuanced explorations into new musical territory.



Facebook event

---
Virtual Balboa
Tryezz

Tuesday, March 20, 2018, 8:00 pm
Barley
235 E. M.L. King Blvd.
Chattanooga, TN 37402
$7-10 door (sliding scale)

Keyboardist TRYEZZ (Jonathan Fowlkes) calls his style of music "Scenic Groove," a mix of jazz, funk and dance music intended to take listeners to amazing and incredible places straight out of his imagination and dreams. Born and raised in Chattanooga, Tryezz delivers scenic grooves from the Scenic City as a tireless independent artist who has self-released numerous works. Tryezz has licensed his music for shows across the world, including the Finnish television show "Magnus ja Petski" and the video series "Yak Like We Do" featuring urban dancers from South Korea, Japan and the U.S.A.

The new face-ripping trio VIRTUAL BALBOA is comprised of three formidable improvising musicians: percussionist Ben Bennett, guitarist Zach Darrup and bassist Evan Lipson.

Philadelphia-based percussionist Ben Bennett's boyish, unassuming appearance provides no hints to the astounding, iconoclastic creativity within, fueled by a desire to get the most varied and visceral array of sounds from the simplest of instruments. Using a wide assortment of drums, cymbals, tubes, pieces of metal and various found objects, Bennett not only strikes them but also uses friction and his own lungs to gently coax or violently wrench unusual and unfamiliar sounds from them. Within the last few years, Bennett has gained international notoriety for his series of "Sitting and Smiling" Internet videos, which feature him sitting without moving for four-hour blocks of time, bearing an enormous grin on his face. These 283 videos (and counting) have cumulatively garnered over three million views from people in over 200 countries and have been the subject of articles in The Atlantic, Vice and many other media outlets. Bennett is also a performance artist, spoken-word artist, sculptor and skilled urban forager.

Zach Darrup is an improvising guitarist currently living in Philadelphia. During his early teenage years in the rural coal region of Pennsylvania a strange boy appeared like an angel, carrying a large cd booklet of wild musics of all sorts. This chance meeting at a pizza shop, plus tumultuous relationships with his home turf, school teachers, and other agents of law and rule enforcement led Zach to drop out and skip town, devoting himself to following music wherever it would take him--somewhere else. His techniques are informed by the musical possibilities of film language, jovial mockery and mimicry of plants, animals, and audience members, thoughtful room listening, word play, colors, and culinary experiments.

Evan Lipson (b. 1981) has operated as a musician since adolescence, intuitively seeking the liminal zones in which intellect and instinct, history and myth, and creative and destructive force intersect. Drawn towards aberrant perspectives at an early age, his formative experiences were primarily rooted in extreme and often discordant forms of rock, free improvisation, modernist composition, jazz, outsider pop, soundtracks, noise, and electronic music. Lipson has written music for several films, as well as a new collaboration with Duplex Planet-creator David Greenberger and Bob Stagner of the Shaking Ray Levis. Past units include Normal Love, Satanized, Dynamite Club, Femme Tops, Psychotic Quartet, and the Weasel Walter Trio. Lipson has performed throughout North America, as well as Brazil, Taiwan and Japan. His music has been released on several imprints including SKiN GRAFT, UgEXPLODE, High Two, Public Eyesore, Badmaster, Caminante, New Atlantis and Damage Rituals.



Facebook event
---
CoPAC and the Shaking Ray Levi Society present
Gyan Riley



Tuesday, April 3, 2018, 7:30 pm
Barking Legs Theater
1307 Dodds Ave
Chattanooga, TN 37404
$15 advance/door

Gyan Riley won his first guitar in a raffle when he was 12 years old. Shortly after learning all of the songs in his cassette collection by ear, he became the first full-scholarship graduate guitar student at the San Francisco Conservatory. Gyan's diverse work now focuses on his own compositions, improvisation, and contemporary classical repertoire. Gyan has been commissioned by the Kronos Quartet, New Music USA, the Carnegie Hall Corporation, the American Composers Forum, and the New York Guitar Festival. He has performed with Zakir Hussain, Lou Reed, John Zorn, the Kronos Quartet, Lee Ranaldo (of Sonic Youth), Iva Bittova, Julian Lage, the Bang-On-A-Can All-Stars, Bryce Dessner, Nico Muhly, Secret Chiefs 3, the San Francisco Symphony, the Philadelphia Chamber Orchestra, and his father, the composer/pianist/vocalist Terry Riley.

Various tours have taken him throughout Europe, Canada, Latin America, Asia, and the US, both as a soloist and in various ensembles. Gyan resides in New York City and frequently performs with the duo Probosci, the trio Eviyan, the electric guitar quartet Dither, guitarist Julian Lage, and his father Terry Riley. Terry and Gyan recently scored a new film by writer/director Francois Girard (The Red Violin) entitled "Hochelaga, Terre des Âmes" that premiered at the 2017 Toronto Film Festival and was recently selected as Canada's pick for best foreign language film category at the 2018 Oscars. Gyan has five solo CD titles and many ensemble/collaborative recordings, most recently released on National Sawdust Tracks and Tzadik Records in New York.


"Beautiful and enigmatic...
an alluringly intimate vibe created from the first note."
-The New York Times

"Gyan Riley is a one-man American-music machine, amicably ranging across the fields of jazz, world music, and post-minimalism."
-The New Yorker

---
CoPAC and the Shaking Ray Levi Society present
Domino Ensemble: "Purple Ego"

Sunday, April 8, 2018, 7:30 pm
Barking Legs Theater
1307 Dodds Ave
Chattanooga, TN 37404
$15 advance/door, $10 students (door)


---



The Shaking Ray Levi Society, Signal Centers and TRAP present




TRAP South Training Workshop



Tuesday through Thursday, April 10-12, 2018, from 10 a.m. to noon each day
Signal Centers
109 North Germantown Road
Chattanooga, TN 37411 (Google Maps link)
$100 prepaid workshop fee

The Rhythmic Arts Project (TRAP) South Training Workshop is a 3-day conference for educators, facilitators and parents to learn the basics of the TRAP curriculum, that uses rhythm and a multi-sensory approach to bring the joy of music into a teaching environment to enhance the lives of people with various disabilities, including developmental and physical disabilities.

WHO might be interested in this?
People who work in schools (or do homeschooling), hospitals and facilities for those with disabilities of all kinds and who want to apply some of the TRAP curriculum basics in those settings. People who are curious about pursuing this fulfilling work further and want an introduction to the TRAP curriculum.




This workshop was made possible by a grant from

ArtsBuild

.

---
CoPAC and the Shaking Ray Levi Society present
Thollem McDonas

Tuesday, May 22, 2018, 7:30 pm
Barking Legs Theater
1307 Dodds Ave
Chattanooga, TN 37404
$15 advance/door, $10 students (door)

Thollem McDonas is a pianist, composer, improviser and teacher. He was born and raised in the San Francisco Bay Area of Irish and Cherokee descent. At the age of five, he began studying the keyboard repertoire from the medieval to the 20th century and studied with many notable teachers including Aiko Onishi and Lou Harrison. After graduating with degrees in both piano performance and composition, he stepped from the concert pianist trajectory to dedicate his time to grassroots political movements and ecological restoration projects. In 2005, he returned to his music as his full focus, incorporating his myriad experiences into his compositions, improvisations and teaching.

Thollem travels perpetually as a performer, composer and teacher, covering much of the North American continent and Europe, often leading listening and group improvisation workshops as well as master classes. He has performed extensively as a soloist as well as in piano concertos with symphonies, West African drumming troupes, Javanese gamelan ensembles, punk bands, with film makers, dancers, poets and painters and a wide array of divergent musicians, both famous and under-known. In the past 7 years, he has added 30 albums to his discography on 12 different vanguard labels in 4 different countries. He is the founding director of Estamos Ensemble, a Mexican-American cross border ensemble for musical exchange. As a writer, his essay, "Deep Listening and the Peripatetic Life of an Improvising Musician" was written specifically for An Anthology of Essays on Deep Listening (Deep Listening Institute, 2012) in honor of master musician Pauline Oliveros' 80th birthday. His music is diverse, with each album and every concert exploring a variety of approaches and paths, resulting in dramatically different outcomes.


"Thollem's keyboard flights unleash cascades of notes of seemingly impossible velocity…as an improviser, he inhabits a world uniquely his own, rhythmically, harmonically and formally. A true original."
– Terry Riley, composer
"McDonas is known for his rapturous solo piano work which transgresses genre boundaries as much as it transcends them. And while his solo piano oeuvre is remarkable for its stylistic breadth and depth, McDonas has more pure technical ability than most musicians would know what to do with."
- All About Jazz NY


---
---
---
---
The Shaking Ray Levi Society celebrates
thirty years
of extraordinary and challenging music and art in Chattanooga and beyond.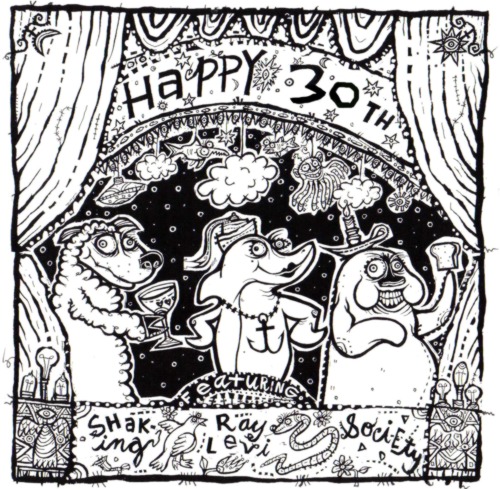 ---


It is with our deepest sorrow at the Shaking Ray Levi Society that we have learned of the passing of Rev. Terry Fugate on February 13, 2015, who was the first treasurer of the Shaking Ray Levi Society and a co-founder.

We will have strong memories of Terry's infinite kindness, great musical talents, intelligence and rare insight. Terry is a former pastor of St. James Lutheran Church in Brunswick, Georgia and an early member of the Shaking Ray Levis performing group.




Times Free Press obit
Chattanooga Funeral Home obit

---
The Shaking Ray Levi Society is greatly saddened by the loss of Julian Ray Norwood on February 16, 2014, who was a co-founder and the first president of The Shaking Ray Levi Society.

Julian will be remembered for his remarkable energy and passion for the arts, generosity, and persistence to challenge the SRLS and others in meaningful, illuminating ways.
Times Free Press obit
Shawn Chapman Funeral Home obit
Funeral Service for Julian Norwood
Saturday, February 22, 2014
Visitation: 12 PM
Service: 1 PM
Shawn Chapman Funeral Home
2362 Highway 76
Chatsworth, GA 30705

---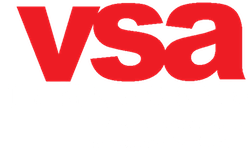 The work of the Shaking Ray Levi Society was praised in the latest VSA TN (Very Special Arts) newsletter:

"VSA Tennessee teaching artist, Bob Stagner, recently completed an artist residency at the Dawn School in Chattanooga involving studying the relationship between music and architecture. In this residency, the students first had to comprehend two art forms, then begin to understand advanced concepts for sound formation and structures, and build a vocabulary with a variety of percussion instruments. The students worked in groups with electronic devises and building models as well as with a variety of percussion instruments. The stories below are shared by the teaching artist with the permission of the students and their families:

Adeline is a 6th grader at Dawn School with severe depression and learning disabilities. She's a delicate, soft spoken young lady who rarely talks above a whisper and remains part of the woodwork in most classes. Our workshop included architectural city shapes and their sound wave counterparts. Adeline created wave forms using two Moog devices, one for constant sound, the other for tone manipulation: vibrato, tempo, rate, pitch, and frequency. The result was a dynamic shift in her mood as she turned each dial to a new setting to match our cityscape of over 15 models. Her smile showed pure joy as she retained the concept and gained control of understanding wave/sound shape and an architectural shape.

Victor is 6th grader at Dawn School with Autism. His speech therapist felt our project would be ideal to encourage speech. After our 1st week, it was clear he would retain the exercises and gain confidence. Victor's mother has remarked how excited her son was to be a valued group member. He has also shown more focus with tasks/lessons at home. Victor seemed very proud of new skills and has proved to be a strong class leader.

Funding provided by a grant through the VSA offices of the John F Kennedy Center for the Arts and the Tennessee Department of Education."

---
We at the Shaking Ray Levi Society are deeply saddened by the passing of Dennis Palmer, SRLS co-founder and artistic director for over 26 years, on February 15, 2013.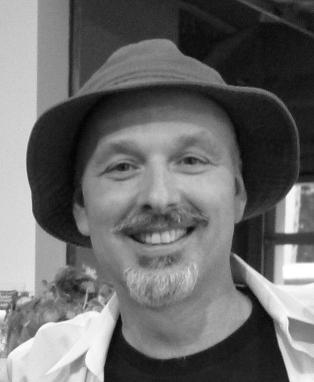 Chattanooga native Dennis Palmer, 55, was a beloved musician, visual artist, storyteller, educator, mentor, and devoted friend of many.

A singular vocalist and nontraditional musician, called "the world's most colorfully inventive synthesizer player" by Creative Loafing, he co-founded the acclaimed free improvisation group The Shaking Ray Levis with drummer Bob Stagner in 1986, which was the first American band to record an album for the legendary British label Incus Records. Palmer has performed internationally with collaborators including Derek Bailey, Steve Beresford, Reverend Howard Finster, David Greenberger, Col. Bruce Hampton, Shelley Hirsch, Frank Pahl, Roger Turner, and Davey Williams.

As a visual artist, Palmer has exhibited his paintings, silk-screened prints, and other unconventional artwork both locally and internationally in cities including London and Los Angeles, and he has designed many CD and record covers.

A leader in the arts community, Palmer promoted the ideas of improvisation and creativity in thought, performance, and visual art to students of all ages through his work with the Shaking Ray Levi Society and developed outreach programs for under-served populations including students with developmental, emotional, or physical disabilities. Palmer served as President of The Association for Visual Arts (AVA) and on the board of directors for Mark Making, and he taught art in Hamilton County schools.

When teaching children, Dennis would ask them about the last time they had a good feeling. In his own words: "Clap your hands once and put your hands over your heart and give that good feeling to yourself. Next is to clap your hands again and sound off and give that feeling to everybody within the room. The third thing is to clap your hands, sound off and give that feeling out off to the whole universe."

Dennis was an inspiration for many and a strong advocate of "living in the moment" and "doing the highest good for all" in the community and beyond.



Body tribute
Chattanooga Pulse tributes: one, two
Chattanoogan obit.
Creative Loafing tribute
Times Free Press tribute

Memorial Service for Dennis Palmer
Wednesday, February 20, 2013
Visitation: 2 to 4 PM
Service: 4 PM
Chattanooga Funeral Home, East Brainerd Chapel
8214 East Brainerd Road, Chattanooga, TN 37421
423-698-2541


---

The Shaking Ray Levis are featured in the latest issue of Signal to Noise magazine (issue #64, Fall 2012), gracing the cover (photography by Bob Wright) and interviewed by Chad Radford in a fascinating and provocative article.