---
Cherries Jubilee featuring:
The Cherry Blossoms
Josephine Foster
Wu Fei
Saturday, May 27, 2017, 8:00 pm
Wayne-O-Rama
1800 Rossville Ave., #108
Chattanooga, TN 37408
$20 advance/door

NOTE to advance ticketholders: no paper tickets issued - your name will be on a list at the door

CHERRIES JUBILEE is a one-of-a-kind event at the otherworldly venue Wayne-O-Rama, Chattanooga's history funhouse, featuring three acclaimed, world-class headlining acts: The Cherry Blossoms, Josephine Foster and Wu Fei. This mini music festival will also celebrate the release of the new Cherry Blossoms album The Hank Tapes featuring early songs from 1996 recorded when the late Marc Trovillion (a Chattanoogan and an original member of Lambchop) was the band's bassist.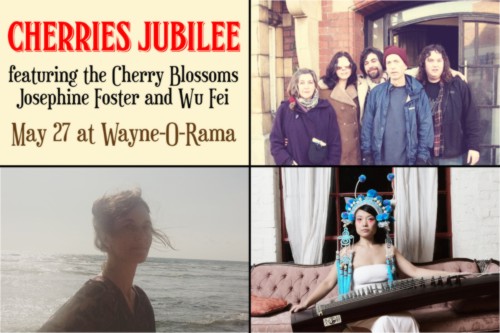 The Cherry Blossoms are to folk music what the Velvet Underground was to rock and roll: anti-commercial, rebellious, pure and unlike anything else. The "unclassifiable, sprawling folk collective" (Nashville Scene) deconstructs folk into a very special experimental music, but its members insist they're a front porch band. Self-described as "Middle Tennessee's finest anarchic post neo-skiffle collective specializing in kazoo-exotica," the legendary Nashville band's core includes Peggy Snow and John Allingham with percussionists Allen Lowrey and Chris Davis and has charmed audiences across the U.S. and Europe. Specializing in kazoo, 6-gallon bucket, poetry, carefully awry drum rhythms, guitar and vocals that span octaves, melodies and time, the Cherry Blossoms are unforgettable.


"One of America's secret gems of the Underground"
- Violet Times, on the Cherry Blossoms

The Colorado-born singer/songwriter/guitarist Josephine Foster has built a remarkable career and earned fans across the globe for her folk-infused compositions and hauntingly beautiful voice, garnering comparisons to diverse artists such as Karen Dalton, Tom Waits and Nico. As a teen, Foster honed her vocal skills by singing at weddings and funerals, and while her initial career aspirations leaned toward opera, she was profoundly inspired by early British folk and Tin Pan Alley classics. Impossible to pin down, Foster has tackled varied styles including psychedelic rock, 19th century German Lieder, and children's songs, and with singer (and husband) Victor Herrera, Foster has covered Spanish folk songs that were previously recorded by the poet Federico García Lorca in 1931.


"Her gainly vibrato and fireside intimacy place her in the company of illustrious dames of Americana such as Buffy Sainte-Marie and composer Ruth Crawford Seeger" - Uncut, on Josephine Foster

Wu Fei, a native of Beijing and a current Nashville resident, is a master of the guzheng, the ancient 21-string Chinese zither. She was trained as a Western classical composer and a vocalist, and plays beautifully in the guzheng's vernacular–a musical language which is at least 2,000 years old. She mixes her Western and Chinese traditional sensibilities with a contemporary idiosyncratic, experimental dialect and has collaborated with many artists of different disciplines and genres, from Béla Fleck to avant-garde composer John Zorn. Wu Fei composes for choir, string quartet, chamber ensemble, Balinese gamelan and orchestra, and her worldwide touring destinations include the Forbidden City Concert Hall in Beijing (composition premiere), the MoMA in New York City, and the Big Ears Festival in Knoxville, TN.


"Beautiful and complex, imagine a Chinese Joanna Newsom"
- Göteborg Post, on Wu Fei


---
Cilla Vee
Davey Williams
Evan Lipson
with special guest Bob Stagner

Saturday, June 3, 2017, 8:00 pm
Wayne-O-Rama
1800 Rossville Ave., #108
Chattanooga, TN 37408
$10 door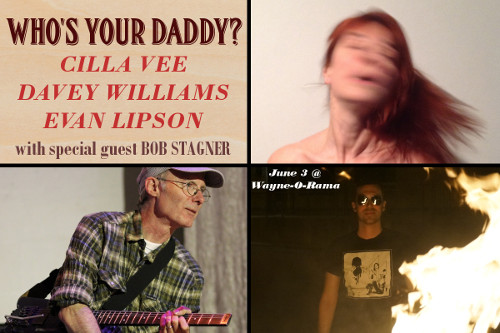 Cilla Vee (Claire Elizabeth Barratt) is an inter-disciplinary artist with a performing arts background. She is the director of "Cilla Vee Life Arts" – an arts organization with a focus on cross-media collaboration. Her work utilizes artistic disciplines of dance, music, text, media, visual and installation art. Claire received her professional training in London at The Laban Centre For Movement and Dance and at the London Studio Centre For Performing Arts. Once based in New York in 2002, Claire founded "Cilla Vee Life Arts" and began to develop and present her signature modes of work – including "Motion Sculpture Movement Installations" and "The Sound Of Movement" projects.

Davey Williams is one of the most unique musical figures to have ever come from the state of Alabama. Considered one of the "three founding fathers of American free improvisational guitar" (along with Henry Kaiser and Eugene Chadbourne), he is the only person to ever successfully - and honestly - bridge the gap between the disparate worlds of Robert Johnson and Sun Ra. As a 19-year-old protégé of the late Delta and Chicago blues master Johnny Shines (a protégé of Robert Johnson and Howlin' Wolf), Davey mastered the slide steel stylings of his teacher and expounded on the form by taking the blues in directions few knew it could go or dare try. Dubbing his style "convulsive blues," he has quietly blown minds around the world through his unique deployment of old-school form and new school technique. Williams was a key member of the Raudelunas art collective, a co-founder of independent record label Trans Museq, and an important architect of the unholy sound of Alabama's Rev. Fred Lane. Along with his longtime musical partner/foil LaDonna Smith, he has played on stages around the globe and collaborated with the likes of John Zorn, Ikue Mori, Andrea Centazzo, Tom Cora, Jim Staley, Gustavo Matamoros, Roger Turner, Anne LeBaron, The Shaking Ray Levis, Col. Bruce Hampton, Oteil Burbridge, Gunter Christmann and Mark Kramer.

Evan Lipson has operated as a musician since adolescence—intuitively seeking the liminal zones in which intellect and instinct, history and myth, and creative and destructive force intersect. He is currently active with Roughhousing and may or may not have some degree of involvement or affiliation with an organization known as Meinschaft. Recently, he has scored several films as well as written music for a new collaboration with Duplex Planet creator David Greenberger and Bob Stagner of the Shaking Ray Levis. Past units include Normal Love, Satanized, Wrest, Dynamite Club, Femme Tops, Psychotic Quartet, and the Weasel Walter Trio. Lipson's music has been released on a number of imprints including SKiN GRAFT, UgEXPLODE, High Two, Public Eyesore, Badmaster, Caminante, New Atlantis, and Damage Rituals.

Facebook event

---
Shane Parish (of Ahleuchatistas)

Thursday, June 22, 2017, 7:30 pm
Wayne-O-Rama
1800 Rossville Ave., #108
Chattanooga, TN 37408
$10 door

American guitarist Shane Parish released his second instrumental solo acoustic album, Undertaker Please Drive Slow, late in 2016 on Tzadik Records. The music for this album was conceived in a single night of inspiration in February 2016 when Parish freely interpreted several Appalachian, folk, blues, gospel, and old English tunes into his tape recorder, allowing all of his background in classical guitar, country blues, jazz, and free improvisation to blend into a seamless and effortless flow. This demo caught the ears of the legendary NYC saxophonist and composer John Zorn, who immediately offered to produce the album. When guitar maestro Marc Ribot heard these recordings he said, "Shane Parish is one of the most interesting new guitar voices to come out of the country blues tradition of Mississippi John Hurt, Lightin Hopkins…" Having long established his creative voice as a radical electric guitarist in his long-running band Ahleuchatistas, Parish is now revealing a more elaborate and intimate inner world with his solo acoustic performances of whimsy, passion and virtuosity.

"A long time resident of the Appalachian town of Asheville, North Carolina, Shane Parish is the mastermind behind the cutting edge rock band Ahleuchatistas. Here he steps out with a remarkable and soulful acoustic solo project that digs deep into Appalachian roots. Taking classic old timey folk songs, Shane has abstracted them in utterly fascinating ways evoking the haunting and brooding world of the American South. At times reminiscent of John Fahey and Robbie Basho, at times of John Cage and Morton Feldman, Shane uses these beautiful songs as launching pads for his creative flights of fancy, at times boiling them down to their very essence. A spiritual project that will keep you riveted from first note to last." — John Zorn

"Shane Parish is one of the most interesting new guitar voices to come out of the country blues tradition of Mississippi John Hurt, Lightin Hopkins… via John Fahey, and the folkie fingerpickers….this recording finds Parish standing at the cross-roads between playing the country blues and… deconstructing? Devolving? Destroying?…them. Some of the miniatures are stunning, haunted by an Anton Webern-like economy. Check it out!" — Marc Ribot

"The longer pieces contain silences and pronounced dissonances that suggest a more than passing acquaintance with John Cage's music for prepared piano, as well as melodic permutations that move as fluidly as Grant Green in a purposeful mood. Parish does not improvise according to any known set of jazz prescriptions, but like Django Reinhardt or Charlie Christian, his improvisations express a strong sense of form."--Bill Meyer, Dusted

"Parish's deeply personalized spin on roots music transcends any semblances of playing it safe. More importantly, he establishes a musical conduit that pays homage to tradition while unlocking new passageways, enacted with the utmost sincerity." --Glenn Astarita, All About Jazz

---
What Cheer? Brigade
Saturday, June 24, 2017, 8:00 pm
Wayne-O-Rama
1800 Rossville Ave., #108
Chattanooga, TN 37408

The WHAT CHEER? BRIGADE from Providence, RI is a 19-piece mobile party, like a marching band on an atomic fireball sugar rush that darts from New Orleans brass band tunes to Bollywood dance numbers to whirlwind Balkan folk to bombastic hip-hop, with a ton of surprises along the way. It has been four years since the SRLS brought their merry insanity to Chattanooga, and their return will guarantee to deliver an unforgettable dance 'splosion.

"Thrillingly competent, with undimmable energy…an explosion of good cheer." - The New York Times




---
Frank Pahl
Bill Brovold
Duet for Theremin and Lap Steel
Friday, June 30, 2017, 8:00 pm
Wayne-O-Rama
1800 Rossville Ave., #108
Chattanooga, TN 37408

The utterly unique and overwhelmingly creative Frank Pahl wants to do it all, or so it seems. And so far, he's made a pretty good dent on that "all," being an award-winning multi-instrumentalist, composer, instrument inventor, toy/electronics tinker, and improviser who has created music for film, art installations, dance productions, musicals, cabarets, and other theatre performances. This is in addition to his acclaimed solo albums and material with the avant-folk outfit ONLY A MOTHER, not to mention his fascinating automated sound sculptures and other work as a visual artist...

Some of the many, many instruments that Frank Pahl plays: buzzsaw ukulele, washing machine, banjo, prepared barrel piano, toy trumpet and trombone, Bulgarian flute, peacock harp, shrutti box, tou marimba, virtual pet: gerbil, euphonium, African harp, clarinet, autoglock, harmonium, tiple, automatic zither, cello, binary doorbell quintet...

A guitarist, composer, and producer as well as a visual artist, Bill Brovold was born in Tacoma, Washington. He started playing guitar in the early '70s, inspired by country music. By the early '80s, he had moved to New York and become a fixture on the 'Downtown' avant-garde scene. Brovold studied painting at the School of Visual Arts (graduating in 1982) while constructing sets for MTV musicians (including Cyndi Lauper) and making music for filmmakers and performance artists. Brovold met and began working with Rhys Chatham, whom he admired as both a sonic pioneer and "a real heavyweight in modern avant-garde compositions." For five years, from 1983 until 1988, Brovold played guitar in the Rhys Chatham Ensemble, performing at the Knitting Factory, CBGBs, the Mudd Club and Max's Kansas City. He also played in the East Village Orchestra, Fast Forward, the Zen Vikings, and numerous other projects, and formed his own band with Ernie Brooks (Modern Lovers) and James Lo (Live Skull). Brovold left NYC in 1990, and in 1994, settled in Detroit, MI, a city whose musical heritage includes Motown legends as well as punk's predecessors, MC5 and the Stooges (whose guitarist, Ron Asheton, Brovold has played with).

Brovold founded Larval in 1995 with guitarist Erik Gustafson (from Blue Dog). The Detroit-based band originally had a five-piece lineup that included three guitars (Brovold, Gustafson, and Beth Wilusz), bass (Dean Western) and drums (Will Osler), often supplemented by guests on sax (Johnny Evans) and violin (Mary Alice). Under guitarist Brovold's leadership, Larval's second lineup included Toby Summerfeld (guitar), Josh Tillinghast (bass), Colin Stetson (saxes), Marko Smith (drums), and Mike Smith (violin). The transient nature of Detroit's artistic community prompted Brovold to subsequently reconfigure Larval as a rotating ensemble with a fluid lineup. As Brovold selected the best musicians passing through Detroit and neighboring Ann Arbor to help realize his musical visions, Larval became recognized as Detroit's incubator for the rock avant-garde.

Duet for Theremin and Lap Steel: the name of this Atlanta duo implies a proper classical recital, a rigid formality. But Scott Burland (Theremin) and Frank Schultz (lap steel) don't do scripted, improvising--not so much distinct sounds as evolving eddies of sound, vapors of tones that develop and transform gracefully. Hypnotic pulses and dreamy drones weave together to form a kaleidoscope of sounds and moods, ambient clouds and swooning collages that are as much about texture as they are timbre, like a long-lost soundtrack to a deep-sea documentary. Over the duo's ten-year existence, they've toured extensively in the U.S. and also in Europe, released four CDs and have played notable events including EtherFest in Asheville, NC, the Electro-Music Festival, WhoFest, the City Skies Festival and the Improvisor Festival.

---
Changing Lives Since 1979:
Jack Wright
Evan Lipson
"Borbetomagus: A Pollock of Sound" documentary

Friday, July 7, 2017, 8:00 pm
Wayne-O-Rama
1800 Rossville Ave., #108
Chattanooga, TN 37408
$15 door (price includes music concert and film screening)

Alto and soprano saxophonist Jack Wright is a sax titan with a career that spans five decades in the world of free improvisation. With a command of the sax that is at the top of his field with a passionate, kinetic playing style and a huge sound vocabulary, he has been called "the most indispensable musician of his generation" and "the reference par excellence for all the generations who have followed." (Jazzosphere).


In the fifties Jack Wright was a soprano choir boy and marching band saxophonist, in the early sixties a washtub bassist and college kid, in the late sixties and seventies a university lecturer in history, a revolutionist and community organizer. Since then he has been playing freely improvised saxophone, touring the US and Europe, and has been dubbed "the Johnny Appleseed of Improvised Music". He is accused of impersonating pigs, ducks and human blowhards, but lately has been remembering the proper use of the saxophone - to support the tottering universe. His roots are in Philly, where he owns a house for wayward improvisers. Jack plays with everyone but performs and tours only with the finest, which usually means the most obscure, from Europe and the US. He and his partners are among the few true believers in absolutely free, unrestrained, unstructured, unselfconscious improvisation, played at soberingly high levels of musicianship.


"In the rarefied, underground world of experimental free improvisation, saxophonist Jack Wright is king" - Washington Post
Evan Lipson has operated as a musician since adolescence—intuitively seeking the liminal zones in which intellect and instinct, history and myth, and creative and destructive force intersect. He is currently active with Roughhousing and may or may not have some degree of involvement or affiliation with an organization known as Meinschaft. Recently, he has scored several films as well as written music for a new collaboration with Duplex Planet creator David Greenberger and Bob Stagner of the Shaking Ray Levis. Past units include Normal Love, Satanized, Wrest, Dynamite Club, Femme Tops, Psychotic Quartet, and the Weasel Walter Trio. Lipson's music has been released on a number of imprints including SKiN GRAFT, UgEXPLODE, High Two, Public Eyesore, Badmaster, Caminante, New Atlantis, and Damage Rituals.


"Lipson easily stands among the best bassists I've heard lately, his terrifically strapping tone epitomizing the decision to really learn how an instrument works." - Massimo Ricci, Touching Extremes

"Borbetomagus: A Pollock of Sound" is the first feature-length documentary about the legendary improv / noise group Borbetomagus. Filmmaker Jef Mertens brings a raw, urgent, and unpolished vision focusing on a band that has spent almost four decades defining and redefining not just their music, but the boundaries of music itself. Band members Don Dietrich, Donald Miller, and Jim Sauter tell their story with the help of artists, writers, photographers, and filmmakers that include noted critic Byron Coley, drummer Chris Corsano, guitarist Thurston Moore, groundbreaking Japanese noise unit Hijokaidan, and Switzerland's masters of "cracked electronics," Voice Crack. Includes never-before-seen archival footage, amazing photographic finds, and previously unreleased recordings.


---
---
---
The Shaking Ray Levi Society celebrates
thirty years
of extraordinary and challenging music and art in Chattanooga and beyond.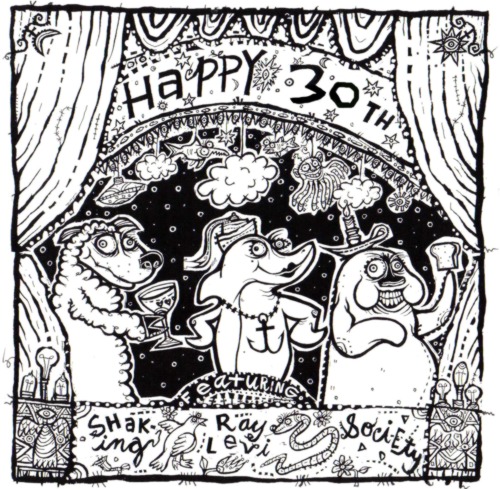 ---


It is with our deepest sorrow at the Shaking Ray Levi Society that we have learned of the passing of Rev. Terry Fugate on February 13, 2015, who was the first treasurer of the Shaking Ray Levi Society and a co-founder.

We will have strong memories of Terry's infinite kindness, great musical talents, intelligence and rare insight. Terry is a former pastor of St. James Lutheran Church in Brunswick, Georgia and an early member of the Shaking Ray Levis performing group.




Times Free Press obit
Chattanooga Funeral Home obit

---
The Shaking Ray Levi Society is greatly saddened by the loss of Julian Ray Norwood on February 16, 2014, who was a co-founder and the first president of The Shaking Ray Levi Society.

Julian will be remembered for his remarkable energy and passion for the arts, generosity, and persistence to challenge the SRLS and others in meaningful, illuminating ways.
Times Free Press obit
Shawn Chapman Funeral Home obit
Funeral Service for Julian Norwood
Saturday, February 22, 2014
Visitation: 12 PM
Service: 1 PM
Shawn Chapman Funeral Home
2362 Highway 76
Chatsworth, GA 30705

---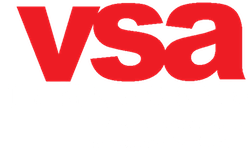 The work of the Shaking Ray Levi Society was praised in the latest VSA TN (Very Special Arts) newsletter:

"VSA Tennessee teaching artist, Bob Stagner, recently completed an artist residency at the Dawn School in Chattanooga involving studying the relationship between music and architecture. In this residency, the students first had to comprehend two art forms, then begin to understand advanced concepts for sound formation and structures, and build a vocabulary with a variety of percussion instruments. The students worked in groups with electronic devises and building models as well as with a variety of percussion instruments. The stories below are shared by the teaching artist with the permission of the students and their families:

Adeline is a 6th grader at Dawn School with severe depression and learning disabilities. She's a delicate, soft spoken young lady who rarely talks above a whisper and remains part of the woodwork in most classes. Our workshop included architectural city shapes and their sound wave counterparts. Adeline created wave forms using two Moog devices, one for constant sound, the other for tone manipulation: vibrato, tempo, rate, pitch, and frequency. The result was a dynamic shift in her mood as she turned each dial to a new setting to match our cityscape of over 15 models. Her smile showed pure joy as she retained the concept and gained control of understanding wave/sound shape and an architectural shape.

Victor is 6th grader at Dawn School with Autism. His speech therapist felt our project would be ideal to encourage speech. After our 1st week, it was clear he would retain the exercises and gain confidence. Victor's mother has remarked how excited her son was to be a valued group member. He has also shown more focus with tasks/lessons at home. Victor seemed very proud of new skills and has proved to be a strong class leader.

Funding provided by a grant through the VSA offices of the John F Kennedy Center for the Arts and the Tennessee Department of Education."

---
We at the Shaking Ray Levi Society are deeply saddened by the passing of Dennis Palmer, SRLS co-founder and artistic director for over 26 years, on February 15, 2013.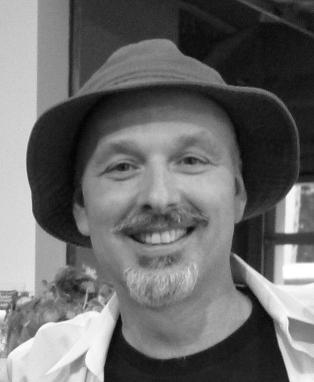 Chattanooga native Dennis Palmer, 55, was a beloved musician, visual artist, storyteller, educator, mentor, and devoted friend of many.

A singular vocalist and nontraditional musician, called "the world's most colorfully inventive synthesizer player" by Creative Loafing, he co-founded the acclaimed free improvisation group The Shaking Ray Levis with drummer Bob Stagner in 1986, which was the first American band to record an album for the legendary British label Incus Records. Palmer has performed internationally with collaborators including Derek Bailey, Steve Beresford, Reverend Howard Finster, David Greenberger, Col. Bruce Hampton, Shelley Hirsch, Frank Pahl, Roger Turner, and Davey Williams.

As a visual artist, Palmer has exhibited his paintings, silk-screened prints, and other unconventional artwork both locally and internationally in cities including London and Los Angeles, and he has designed many CD and record covers.

A leader in the arts community, Palmer promoted the ideas of improvisation and creativity in thought, performance, and visual art to students of all ages through his work with the Shaking Ray Levi Society and developed outreach programs for under-served populations including students with developmental, emotional, or physical disabilities. Palmer served as President of The Association for Visual Arts (AVA) and on the board of directors for Mark Making, and he taught art in Hamilton County schools.

When teaching children, Dennis would ask them about the last time they had a good feeling. In his own words: "Clap your hands once and put your hands over your heart and give that good feeling to yourself. Next is to clap your hands again and sound off and give that feeling to everybody within the room. The third thing is to clap your hands, sound off and give that feeling out off to the whole universe."

Dennis was an inspiration for many and a strong advocate of "living in the moment" and "doing the highest good for all" in the community and beyond.



Body tribute
Chattanooga Pulse tributes: one, two
Chattanoogan obit.
Creative Loafing tribute
Times Free Press tribute

Memorial Service for Dennis Palmer
Wednesday, February 20, 2013
Visitation: 2 to 4 PM
Service: 4 PM
Chattanooga Funeral Home, East Brainerd Chapel
8214 East Brainerd Road, Chattanooga, TN 37421
423-698-2541


---

The Shaking Ray Levis are featured in the latest issue of Signal to Noise magazine (issue #64, Fall 2012), gracing the cover (photography by Bob Wright) and interviewed by Chad Radford in a fascinating and provocative article.