---
Flying Fingers Productions and the Shaking Ray Levi Society present:
Thollem McDonas



November 5

, 2013
Barking Legs Theater
1307 Dodds Ave
Chattanooga, TN 37404
$10 door

Thollem McDonas is a bold, inventive, often astounding improvising pianist who tours perpetually as a soloist, vocalist and collaborator, regularly covering much of North America and Europe playing free music and free free music. In the past seven years, he has added 30 albums to his discography on twelve different vanguard record labels in four different countries. His musical experiences are extremely diverse and his ever-expanding variety of approaches to making music result in dramatically new and different outcomes. He plays in punk clubs, museums, concert halls and riots. He works regularly with film makers, dancers, poets and painters as well as a wide array of divergent musicians. He has won numerous awards and is the founding director of

Estamos Ensemble

, a Mexican-American cross border ensemble for musical exchange.

McDonas has collaborated with an unbelievably diverse array of artists, including Nels Cline (Wilco), Mike Watt (Minutemen), Pauline Oliveros, William Parker, Arrington de Dionyso, John Dieterich (Deerhoof), Jad Fair (Half Japanese), Henry Kaiser and Damo Suzuki (Can), to name a few. He has also worked with various filmmakers, including Matthew Barney (The Cremaster Cycle), dance companies and ballet groups.

On Barking Legs Theater's beautiful Steinway grand piano, McDonas will present Thollem's Confluence, the result of a musician who has been traveling perpetually and playing internationally for years. Absorbing approaches to the music of a wide variety of cultures, these comprovisations contain nuances and collisions from his studies of 350 years of keyboard music, gamelan, West African drumming, Native American music and those he finds in the ever-changing environments he encounters.

"Thollem's keyboard flights unleash cascades of notes of seemingly impossible velocity…as an improviser, he inhabits a world uniquely his own, rhythmically, harmonically and formally. A true original." - Terry Riley, composer






---
Secret Weave

and the Shaking Ray Levi Society present:
Cellular Chaos
Chatoyant
Rick Weaver

Saturday, November 9, 2013, 10:00 PM
Sluggo's North
501 Cherokee Blvd.
Chattanooga, TN 37405
$7 door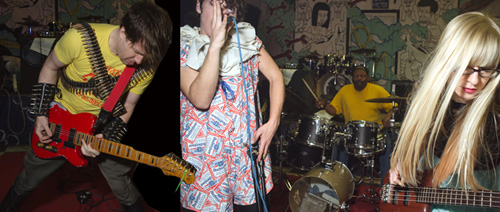 The blisteringly intense NYC-based CELLULAR CHAOS fuses ballistic rock-and-roll energy with no-wave weirdness and touches of '70s glam and free jazz, garnering a singular reputation in the contemporary underground music scene for their incendiary live performances, manic musicianship and futuristically left-of-center songwriting.

This quartet is the sum of four seemingly disparate parts: singer and lyricist Admiral Grey possesses a clarion voice which cuts straight through the density of the group's onslaught, delivering her bizarre, hallucinatory visions with animation and articulation. Her chameleonic stage presence and kamikaze physical outbursts make her a riveting focal point in the unit. Weasel Walter, a founding member of The Flying Luttenbachers, Lake of Dracula and To Live and Shave in L.A., has been called "...a strong and incisive guitarist who has amalgamated such diverse interests as Robert Quine, Blixa Bargeld, Keiji Haino, and Rudolph Grey into a singular and toothy approach" by Tiny Mix Tapes and his six-string slaughter with Cellular Chaos will not disappoint anyone looking for sonic blood. Kelly Moran brings a cultivated primitivity on bass guitar, summoning a minimalist foundation of sedimental fuzz bass riffing, interspersed with savage, atonal skronk. Drummer Marc Edwards brings many decades of diverse experience into the mix, furiously slamming away, alternately with bludgeoning crudity and weighty jazz finesse. The net effect is a high-pressure torrent of emotion, exploding with desperation and lashing out at the listener with white-knuckled accuracy and neckcracking momentum.
The Michigan underground supergroup CHATOYANT creates mind-expanding madness with all-improvised music that suggests non-existent structures, featuring drummer Crazy Jim Baljo (Wolf Eyes), reedist Marko Novachcoff (Only a Mother), Joel Peterson (Immigrant Suns) on Fender Rhodes electric piano, and guitarist Matt Smith (Outrageous Cherry, The Volebeats, Crime and the City Solution). From tranquil to explosive, dense to spare, the band draws on the full range of musical expression and imbues it with a rhythmic intensity.
Chattanooga multi-instrumentalist and experimental video artist RICK WEAVER creates warped cinematic music, like a Lynchian smear of discomfort, beautiful in its controlled chaos. The Riverfront Times wrote "[Weaver's] music often explores the underbelly of dementia through tales of the grotesque...harnessing the ability to put life back into the art of performance..."


---
We at the Shaking Ray Levi Society are deeply saddened by the passing of Dennis Palmer, SRLS co-founder and artistic director for over 26 years, on February 15, 2013.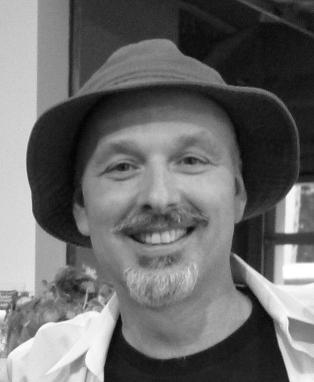 Chattanooga native Dennis Palmer, 55, was a beloved musician, visual artist, storyteller, educator, mentor, and devoted friend of many.

A singular vocalist and nontraditional musician, called "the world's most colorfully inventive synthesizer player" by Creative Loafing, he co-founded the acclaimed free improvisation group The Shaking Ray Levis with drummer Bob Stagner in 1986, which was the first American band to record an album for the legendary British label Incus Records. Palmer has performed internationally with collaborators including Derek Bailey, Steve Beresford, Reverend Howard Finster, David Greenberger, Col. Bruce Hampton, Shelley Hirsch, Frank Pahl, Roger Turner, and Davey Williams.

As a visual artist, Palmer has exhibited his paintings, silk-screened prints, and other unconventional artwork both locally and internationally in cities including London and Los Angeles, and he has designed many CD and record covers.

A leader in the arts community, Palmer promoted the ideas of improvisation and creativity in thought, performance, and visual art to students of all ages through his work with the Shaking Ray Levi Society and developed outreach programs for under-served populations including students with developmental, emotional, or physical disabilities. Palmer served as President of The Association for Visual Arts (AVA) and on the board of directors for Mark Making, and he taught art in Hamilton County schools.

When teaching children, Dennis would ask them about the last time they had a good feeling. In his own words: "Clap your hands once and put your hands over your heart and give that good feeling to yourself. Next is to clap your hands again and sound off and give that feeling to everybody within the room. The third thing is to clap your hands, sound off and give that feeling out off to the whole universe."

Dennis was an inspiration for many and a strong advocate of "living in the moment" and "doing the highest good for all" in the community and beyond.



Body tribute
Chattanooga Pulse tributes: one, two
Chattanoogan obit.
Creative Loafing tribute
Times Free Press tribute

Memorial Service for Dennis Palmer
Wednesday, February 20, 2013
Visitation: 2 to 4 PM
Service: 4 PM
Chattanooga Funeral Home, East Brainerd Chapel
8214 East Brainerd Road, Chattanooga, TN 37421
423-698-2541


---

The Shaking Ray Levis are featured in the latest issue of Signal to Noise magazine (issue #64, Fall 2012), gracing the cover (photography by Bob Wright) and interviewed by Chad Radford in a fascinating and provocative article.