---
ArtsBuild,
Human Conduct, Secret Weave and the Shaking Ray Levi Society present:

The Dilating Nexus Series

April 26: An Evening with Tapes at Artifact Gallery, 1080 Duncan Ave.
May 31: Lupton City Snake Show at Barking Legs Theater, 1307 Dodds Ave.
June 21: Random Gear Festival at Estate of Confusion, 301 East Main St.
July 19: Breathing Artifacts at Barking Legs Theater, 1307 Dodds Ave.
August 30: Soul in a Box at Mark Making, 2510 North Chamberlain Ave.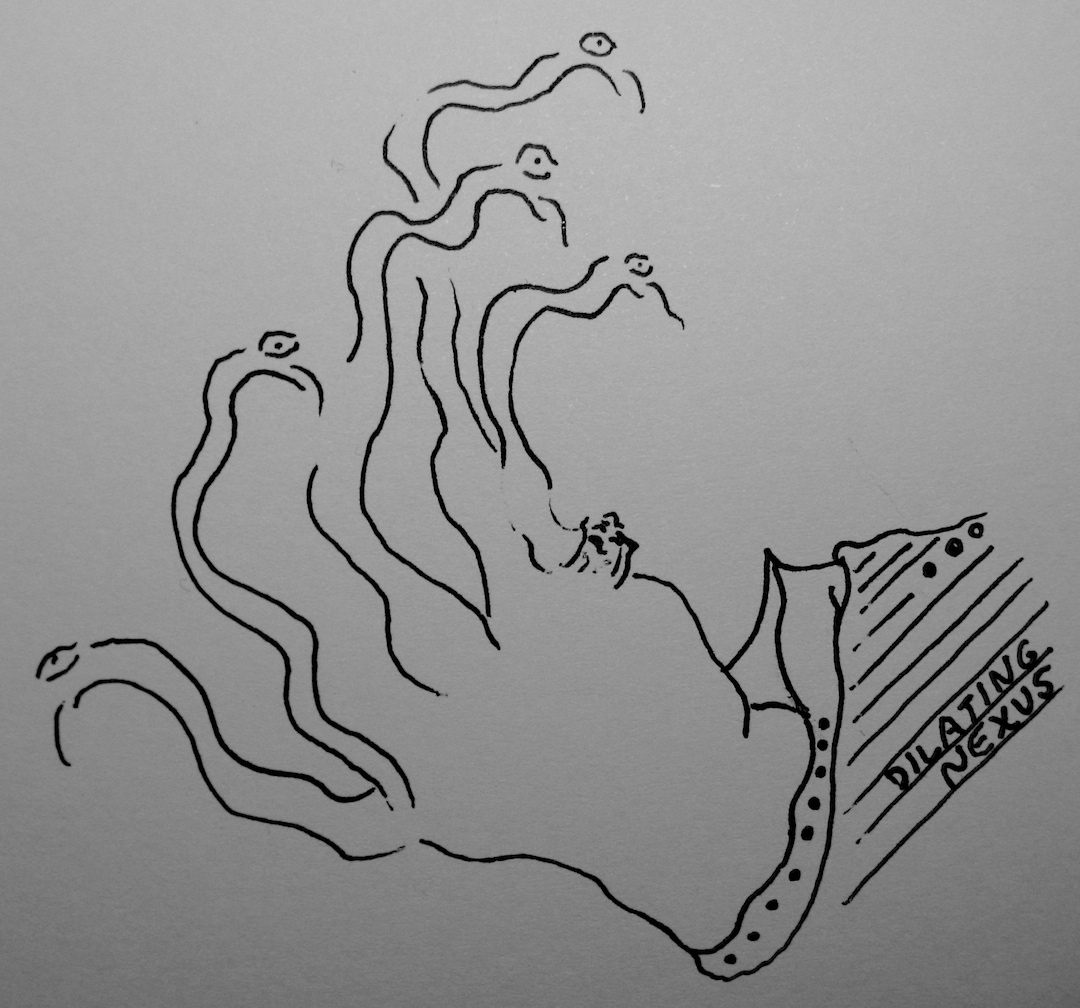 The DILATING NEXUS is a monthly series of non-conventional events and ritualized social experiments housed in a variety of "total environments" throughout Chattanooga, Tennessee. The five-month series aims to stimulate rarefied, esoteric, and unknown actions within the region, while honoring and highlighting cutting-edge work that is already in existence. Each of the events is presented as a provocation to galvanize marginalized performers and artists from all disciplines, pushing them into unforeseen situations and inspiring them to respond in genuinely spontaneous, creative, and resourceful ways.

Typically, festivals present professional or esteemed artists who are expected to represent their individual skills, but for the Dilating Nexus series, the emphasis is less on the individual and more on the collective. Furthermore, by approaching each event in a non-hierarchical manner, both seasoned and emerging artists are presented on equal footing, forming new and unexpected collaborations, with a mixture of local and national performers.


---
ArtsBuild, Human Conduct, Secret Weave and the Shaking Ray Levi Society present:
Breathing Artifacts
(Dilating Nexus Series Part IV)

Saturday, July 19, 2014, Doors open at 4 PM
Barking Legs Theater
1307 Dodds Ave
Chattanooga, TN 37404
$5 door

Video and film screenings, live tapings, installations, projections, and live scores by choice directors, actors, cinematographers, musicians, and editors, featuring unpredictable narratives and abstractions rich in rhythm, color, humor, gesture, content, and texture.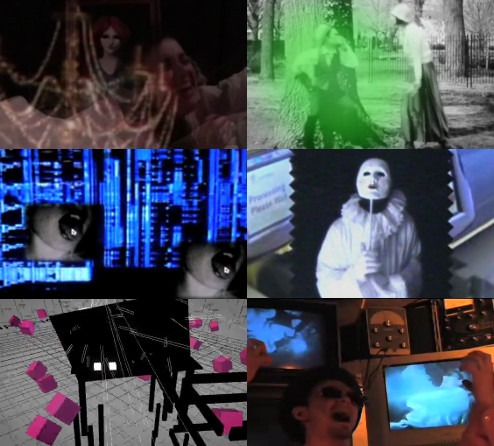 Chrissy Jones (Carrboro) uses two-dimensional surface, sculpting with graphite or dissecting eye, to manifest fantasy, alterations of reality and slumber, riding alpha waves of technique. Reflection, deformation, filtration, theatrics, and appropriation play their role in the process. Manically meticulous and masterful, spontaneous or calculated, her work surrounds the spectator with finely formed worlds filled with mania, anxiety, humor, horror.
Carlos Gonzalez (Providence): Entrepreneur behind Wasp Video Roadhouse; magician of mutated mythologies (Russian Tsarlag, Slime Freak); raging-sea entertainer (Byron House, Hepatitis Youth); director of "home movies" (Bazic Street, Crystal Ball), the likes of which twist genre and morph vernacular. Carlos Gonzalez directs a demented "peanut gallery" of questionable characters and unusual archetypes: a carnival barker, a proprietor of a diner on the side of a lonely highway, a shady realtor, a heroine whose rise and fall are consequences of a suit, and more.
Jason Lescalleet (Maine): The sound world of Maine musician Jason Lescalleet occupies a space between noise, contemporary composition, and minimal electronics. Using decidedly primitive tactics and equipment (e.g. antiquated reel-to-reel recorders, damaged tape, etc.), his work focuses on extreme frequencies and microscopic audio detail. At Breathing Artifacts, Lescalleet will present a live performance along with a screening of Trophy Tape (2014, 37 min.) featuring music from his acclaimed album Songs About Nothing and videos by: Aaron Dilloway (Oberlin), Ellen Frances (NYC), Annie Feldmeier Adams (Chicago), Justin Meyers (Minneapolis), Antony Milton (New Zealand), C. Spencer Yeh (NYC), Olivia Block (Chicago), Adel Souto (NYC), Neil Young Cloaca (Turner Falls), Todd Deal (Worcester), Jubal Brown (Toronto), Heidi Alasuvanto (NYC/Finland) and Robert Beatty (Lexington).
Chad Eivins (St. Louis): Director of controversial children's program, Gluey Guni Basement Show. Live editor / manipulator / documentarian of performances in St. Louis, employing spy cams and other heavy duty surveillance equipment. Brain-bending installations. 3-D music videos. A / V collaborator with modular madman Kevin Harris. Former co-creator of puppet public access show, an archive of classic noise rock performances. Melds and saturates the abstract, spontaneous, hyperactive, and the low-brow. Chad likes to watch.
Tom Boram (Baltimore): "boil ten Ceylon-grown cinnamon sticks in as much water as you like. let it reduce until it is a thick, dark red syrup-like puddle. drink this. now you can feel what i feel, see what i see, hear what i hear, smell what i smell, but not what i taste."
Maralie Armstrong (Providence): Pitch-perfect, devastating voice (Humanbeast). Composer, informed by Nō robes ("Cause the Flower to Bloom While Portraying Old Age"). Drummer in punk rager BLOODHUFF. Creator of fantastic music videos such as "Kraft Durch Freude" by Lazy Magnet and "Vixen" by Profligate.

Cube (Oakland) is Adam Keith: solo musician, eccentric guitarist, photographer, illustrator, playwright / stage director and video artist.

Bernard Herman (NYC) presents...a Skype set. Bernard Herman's solo sounds and performances are eerie, the masks peel one by one, alienation, paranoia, psychosis, obsession, corruption and unrequited love.
Jonathan Mikkelsen (Amsterdam) is one-half of one of the finest and most resourceful improv dance duos Laser Poodle. Based in Amsterdam since 2007, Mikkelsen works as a multimedia artist, creating installations, websites and animations. He has exhibited widely, usually in alternative spaces including the highly missed Amsterdam independent artist run space Outpost – evicted in 2013 – whilst also frequently touring Europe with his independent solo music project, Sleek Mink. Mikkelsen also produces music videos, most recently for Ren Schofield's solo project Container and his single 'Dripping.'
LSDV (Boston): Language, Sex, Drugs, and Violence. Audio and video synced and fragmented, trails of video color and blur. Shredding and hacking the kitchen sink. Hitting the "dream" note through video alteration and sonic manipulation. A jog through the distorted memory banks. Welcome to the subconscious butcher shop.
Tanz Praxis (Hudson) is an upstate NY based music/choreography/film group featuring LN Foster (Wall Wymn, Drums Like Machine Guns) and C. Lavender. Both members have extensive dance backgrounds from childhood and wish to merge the worlds of experimental sound and movement through film and performance. Tanz Praxis exists to mourn and rebuild from a post-apocalyptic world.

Michael Barker (Philadelphia) is the audio/visual artist behind the solo project Embarker and collaborator with past / present groups such as Sharks With Wings, The George Steeltoe Ensemble and Hatchers. Mb uses a variety of electronics, modular synthesizer, homemade instruments, voice and processed audio from found videos that are often projected as an accompaniment to his electro acoustic improvisations and compositions. He has been a resident at the Experimental TV Center and STEIM.

Zack Kouns (OH) is the renaissance man of Ironton. Insomnia, mania, momentum, vision, and inspiration fuel his inimitable outpourings. Dedicated and destined to fashion an infinite body of expression dealing with the ins and outs of existence, his multicolored mythology, expanded through music film prose comedy and other outlets as seen fit, is simultaneously cosmic and personal. Rituals, creations, meditations and lucid hallucinations on sorrow, merriment, hunger, lunacy, ecstasy, longing, despair, love, redemption, among other aspects of consciousness.

JC Loco (Montreal): Hitting the streets, staying inquisitive, staying hydrated, getting near the big questions, throwing up, pushing the big names like Drainolith and Aaron Carter.
Mandy & Val TV (Providence): Mandy & Val (Unicorn Hard-On, Laundry Room Squelchers) talk shop that ought to go viral. Advice, insight, and interviews occur, in-between sips of beer and cocktails, in a no-budget studio setting. Expect a new episode from the enterprise of MVTV.
Segaworms (Chattanooga): Harsh noise, power electronics, lo-fi breakcore, bit crunched mayhem, digital drone, all influenced by the insect universe, viruses, fungus, excretions, toxic waste or general decay.

Asher Love (Chattanooga)
Wadsworth Longfellow (Chattanooga)
Rick Weaver (Chattanooga): Multi-instrumentalist and experimental video artist Rick Weaver creates warped cinema, like a Lynchian smear of discomfort, beautiful in its controlled chaos. Weaver will present his latest music video "Key Conduction" for musician Jeff Zagers.


---
AVA and the Shaking Ray Levi Society present:
Davey Williams: Solo Gig book reading and guitar performance
with special guests Evan Lipson and Bob Stagner

Friday, July 25, 2014, 7:30 PM
Association for Visual Arts (AVA)
30 Frazier Ave
Chattanooga, TN 37405
$10 door ($8 for ages 25 and under)

Davey Williams is one of the most unique musical figures to have ever come from the state of Alabama. Considered one of the "three founding fathers of American free improvisational guitar" (along with Henry Kaiser and Eugene Chadbourne), he is the only person to ever successfully - and honestly - bridge the gap between the disparate worlds of Robert Johnson and Sun Ra. As a 19-year-old protege of the late Delta and Chicago blues master Johnny Shines (himself a protege of Robert Johnson and Howlin' Wolf), Davey mastered the slide steel stylings of his teacher and expounded on the form by taking the blues in directions few knew it could go or dare try. Dubbing his style "convulsive blues," he has quietly blown minds around the world through his unique deployment of old-school form and new school technique.

Williams was a key member of the Raudelunas art collective, a co-founder of independent record label Trans Museq, and an important architect of the unholy sound of Alabama's Rev. Fred Lane. Along with his longtime musical partner/foil LaDonna Smith, he has played on stages around the globe and collaborated with the likes of John Zorn, Ikue Mori, Andrea Centazzo, Tom Cora, Jim Staley, Gustavo Matamoros, Roger Turner, Anne LeBaron, The Shaking Ray Levis, Col. Bruce Hampton, Oteil Burbridge, Gunter Christmann, and Mark Kramer. As a member of the trailblazing avant-jazz/funk band Curlew, he was one of the most respected players on the "Downtown" music scene that revolved around the Knitting Factory in New York City in the late-80's and early-90's, and added insanely inventive guitar lines to that band's impressive body of work.

At this Chattanooga appearance, Williams will perform on electric guitar and draw from his recent book Solo Gig: Essential Curiosities in Musical Free Improvisation, which is both humorous and enlightening. Williams will then be joined by bassist Evan Lipson (Wrest, Normal Love) and percussionist Bob Stagner (The Shaking Ray Levis) for a trio set.
---
The Shaking Ray Levi Society is greatly saddened by the loss of Julian Ray Norwood on February 16, 2014, who was a co-founder and the first president of The Shaking Ray Levi Society.

Julian will be remembered for his remarkable energy and passion for the arts, generosity, and persistence to challenge the SRLS and others in meaningful, illuminating ways.
Times Free Press obit
Shawn Chapman Funeral Home obit
Funeral Service for Julian Norwood
Saturday, February 22, 2014
Visitation: 12 PM
Service: 1 PM
Shawn Chapman Funeral Home
2362 Highway 76
Chatsworth, GA 30705

---
The work of the Shaking Ray Levi Society was praised in the latest VSA TN (Very Special Arts) newsletter:

"VSA Tennessee teaching artist, Bob Stagner, recently completed an artist residency at the Dawn School in Chattanooga involving studying the relationship between music and architecture. In this residency, the students first had to comprehend two art forms, then begin to understand advanced concepts for sound formation and structures, and build a vocabulary with a variety of percussion instruments. The students worked in groups with electronic devises and building models as well as with a variety of percussion instruments. The stories below are shared by the teaching artist with the permission of the students and their families:

Adeline is a 6th grader at Dawn School with severe depression and learning disabilities. She's a delicate, soft spoken young lady who rarely talks above a whisper and remains part of the woodwork in most classes. Our workshop included architectural city shapes and their sound wave counterparts. Adeline created wave forms using two Moog devices, one for constant sound, the other for tone manipulation: vibrato, tempo, rate, pitch, and frequency. The result was a dynamic shift in her mood as she turned each dial to a new setting to match our cityscape of over 15 models. Her smile showed pure joy as she retained the concept and gained control of understanding wave/sound shape and an architectural shape.

Victor is 6th grader at Dawn School with Autism. His speech therapist felt our project would be ideal to encourage speech. After our 1st week, it was clear he would retain the exercises and gain confidence. Victor's mother has remarked how excited her son was to be a valued group member. He has also shown more focus with tasks/lessons at home. Victor seemed very proud of new skills and has proved to be a strong class leader.

Funding provided by a grant through the VSA offices of the John F Kennedy Center for the Arts and the Tennessee Department of Education."

---
We at the Shaking Ray Levi Society are deeply saddened by the passing of Dennis Palmer, SRLS co-founder and artistic director for over 26 years, on February 15, 2013.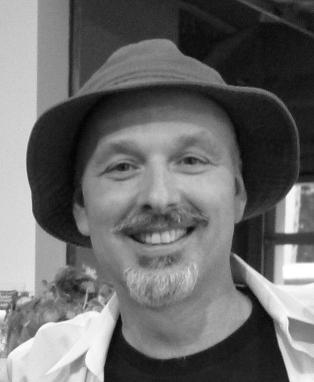 Chattanooga native Dennis Palmer, 55, was a beloved musician, visual artist, storyteller, educator, mentor, and devoted friend of many.

A singular vocalist and nontraditional musician, called "the world's most colorfully inventive synthesizer player" by Creative Loafing, he co-founded the acclaimed free improvisation group The Shaking Ray Levis with drummer Bob Stagner in 1986, which was the first American band to record an album for the legendary British label Incus Records. Palmer has performed internationally with collaborators including Derek Bailey, Steve Beresford, Reverend Howard Finster, David Greenberger, Col. Bruce Hampton, Shelley Hirsch, Frank Pahl, Roger Turner, and Davey Williams.

As a visual artist, Palmer has exhibited his paintings, silk-screened prints, and other unconventional artwork both locally and internationally in cities including London and Los Angeles, and he has designed many CD and record covers.

A leader in the arts community, Palmer promoted the ideas of improvisation and creativity in thought, performance, and visual art to students of all ages through his work with the Shaking Ray Levi Society and developed outreach programs for under-served populations including students with developmental, emotional, or physical disabilities. Palmer served as President of The Association for Visual Arts (AVA) and on the board of directors for Mark Making, and he taught art in Hamilton County schools.

When teaching children, Dennis would ask them about the last time they had a good feeling. In his own words: "Clap your hands once and put your hands over your heart and give that good feeling to yourself. Next is to clap your hands again and sound off and give that feeling to everybody within the room. The third thing is to clap your hands, sound off and give that feeling out off to the whole universe."

Dennis was an inspiration for many and a strong advocate of "living in the moment" and "doing the highest good for all" in the community and beyond.



Body tribute
Chattanooga Pulse tributes: one, two
Chattanoogan obit.
Creative Loafing tribute
Times Free Press tribute

Memorial Service for Dennis Palmer
Wednesday, February 20, 2013
Visitation: 2 to 4 PM
Service: 4 PM
Chattanooga Funeral Home, East Brainerd Chapel
8214 East Brainerd Road, Chattanooga, TN 37421
423-698-2541


---

The Shaking Ray Levis are featured in the latest issue of Signal to Noise magazine (issue #64, Fall 2012), gracing the cover (photography by Bob Wright) and interviewed by Chad Radford in a fascinating and provocative article.