The Shaking Ray Levis' Bend Sinister

Friday, November 3, 2006
Chattanooga Theatre Centre (400 River St.)

Seasoned improvisers Dennis Palmer (vocals/keyboards), Bob Stagner (drums), Phil "Gator" Prouty (guitar), and "Red Okra" King from The Tracers. This lineup is billed as The Shaking Ray Levis' Bend Sinister, and will be performing a late show at the Chattanooga Theatre Centre (400 River St.). $5. 11:00 PM.


Wolf Eyes
Killick Erik Hinds
John Wiese

Wednesday, October 18, 2006
Lamar's (1020 MLK Blvd.)

The crazed Michigan outfit Wolf Eyes bears lofty praise from acts like Sonic Youth for their abrasive and unpredictable noise excursions. Their gazillionth album,

Human Animal

, was released on Sub Pop, and their show at Lamar's (1020 MLK Blvd.) will feature opening acts Killick Erik Hinds and John Weise.
$8. 8:00 PM.



Tara Jane ONeil
Citico String Band

Saturday, October 14, 2006
Caffeine (233 MLK Blvd.)

Multi-instrumentalist, painter, and former member of indie favorites Rodan and Retsin, Tara Jane ONeil creates a space where sound experimentation and acoustic folk reside together. Supporting her fourth album,

In Circles

, just released on Quarterstick Records, ONeil will perform at Caffeine (233 MLK Blvd.) with opener Citico String Band. *$6. 8:00 PM.


The world premiere of Anti-Arktikos (an animated film by local artist Judy Mogul)

Thurs., June 15 2006 on the main stage at The Chattanooga Theatre Centre (400 River St.). Shows at 8:00 & 9:00 PM. Contact the CTC box office at 267-8534 for more information.
Written & created by Judith Mogul
Cinematographer & editor: Jarrod Whaley
music & sound design: Bob Stagner & Dennis Palmer
Combining live action and stop motion animation, puppets and children, Anti-Arktikos follows the adventures of a young girl named "Momo" and her penguin friend "Pipi" in a land first identified by Greek geographers. Believing that a large continent existed at the "bottom" of the world, to balance the land that they knew about, early Greeks named this place "Anti-Arktikos".
Constructed primarily of paper, Judith Mogul's puppets and sets are brought vividly to life by the cinematography of Jarrod Whaley and the soundscape created by musicians Dennis Palmer and Bob Stagner.
Based on a dream by the artist herself, the film is set in a fantastical landscape of paper-sculpted glaciers--inhabited by demons, shamans, and a skeptical colony of penguins. Multiple layers of reality co-exist, as we travel from two- to three-dimensional animation and storytelling.
Click here to view a clip in Real format, or visit anti-arktikos.com
The Tiptons Sax Quartet and Drums (an all-female jazz group from Seattle, WA) with Hubcap City (from Atlanta).
Friday, June 9 2006 at The Chattanooga Theatre Centre (400 River St.) 8:00 PM. $10.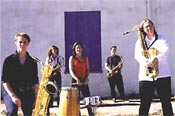 The Tiptons are an all-female sax quartet with percussion, based in Seattle. The group features Jessica Lurie and Amy Denio, original members and the lead composers of the internationally renowned Billy Tipton Memorial Saxophone Quartet (BTMSQ). They are joined by saxophonists Tobi Stone and Tina Richerson, and percussionist Elizabeth Pupo Walker. All of the members share in composing and arranging - and their dynamic repertoire includes some fabulous singing as well! With a repertoire that ranges from New Orleans jump groove to hip hop, punk to East European, klezmer and beyond, the Tiptons create some of the wildest sounds ever to come out of a sax quartet. Their unforgettable, playful concerts feature high-energy interaction between members, and a repertoire that touches on soulful music from around the world.
Erik Hinds and the Shaking Ray Levis at Atlanta's Eyedrum with GFE and friends.
Friday, May 26 2006 at Eyedrum (suite 8, 290 MLK Jr. Dr. SE
Atl, GA) 9:00 PM.
The Shaking Ray Levis is an ongoing collaboration of musicians with a common interest in improvisation. The project was conceived and led by the Chattanooga-based team of Dennis J. Palmer and Bob Stagner. They use storytelling, synthesizers, samplers and percussion to achieve their distinctive sound. They are the first American group to have recorded for Incus Records, the record label of British free improvisational guitarist Derek Bailey. Additionally, they have performed and recorded with John Zorn, David Greenberger, Fred Frith, Min Tanaka, Amy Denio, and Derek Bailey, as well as with many other critically acclaimed artists.
Erik Hinds of Athens, Georgia blends primitive folk, heavy metal, and sacred musics from around the world into a distinct voice. He has in the past year been a very active third member of the Shaking Ray Levis, with all three pushing each other into new and more open avenues.
Mary Halvorson & Jessica Pavone
w/ Young Wife (Knoxville)
Friday, January 13, 2006 at 8PM at the Rivoli Art Mill. (Located in Eastlake at 2301 E. 28th Street @ 6th Avenue)
The Shaking Ray Levi Society (SRLS) proudly presents Brooklyn, NY guitarist Mary Halvorson (a member of Trevor Dunn's Trio-Convulsant) and violist Jessica Pavone.
Mary Halvorson & Jessica Pavone have been collaborating for over three years to create a unique body of duo music. The pair combines lush melodies with textural improvisation to create concise, enigmatic songs. Their collaboration utilizes amplification and electronic effects as well as acoustic presentation. This tour celebrates the release of their first album, Prairies, on the Lucky Kitchen label.
Jessica Pavone is a string instrumentalist, composer, and teacher based in Brooklyn, NY. She studied improvisation with Leroy Jenkins, viola with Victoria Chiang and Midhat Serbagi, and is currently pursuing her Masters in Music Composition at Brooklyn College. Currently, she tours the US and Europe with diverse groups such as the Anthony Braxton Sextet and Dave Longstreth's Dirty Projectors, and improvises with Imaginary Folk and the Taylor Ho Bynum Sextet. She also plays electric bass in Jason Cady's Artificials and Mix Tape, a soul and country cover band. Since 2000, she has documented her music via her self-run label Peacock Recordings.
Mary Halvorson, a guitarist and composer, studied Jazz at Wesleyan University and the New School. She resides in Brooklyn where she performs with her band People, a collaboration with drummer Kevin Shea, as well as Sugriwa, featuring Yeah Yeah Yeahs drummer Brian Chase. She has toured extensively with Trevor Dunn's Trio-Convulsant opening for the Melvins and Fantomas, and with the Anthony Braxton Quintet. She also plays in ensembles led by Taylor Ho Bynum, Ted Reichman, Tatsuya Nakatani and Matthew Welch.
What Critics Are Saying:
"Pavone's compositions are full of pith and lead you to a mesmerizing place where the usual mad scramble to express something 'weighty' or 'important' doesn't count for very much; her deliberately paced mobile-like forms infatuate the brain while calming the pulse."
-Philip Clark, The Wire
"Halvorson is cherished for playing in all kinds of experimental ensembles. She's known as the bearer of burning, spiky Morris- and Cline-inspired jazz-rock fury on her hollow-body electric guitar that drives Trevor Dunn's Trio-Convulsant to its ecstatic peaks of post-rock poetry."
-Michael Anton Parker, Downtown Music Gallery